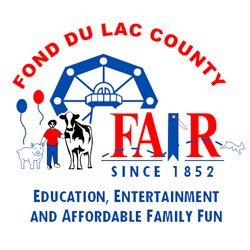 Monday Morning
We had 20 members at our regular meeting on Monday along with our guest speaker, Katie Grinstead from the FDL County Fair Board.  Chris Serres is organizing a new shirt order if anyone is interested.  The new shirts will be gray with a small Kiwanis logo on the front.  Cost will be $10 for a regular T-shirt or $15 for a V-neck.  Let Chris know at next week's meeting or before so she can get them ordered in time for Walleye Weekend.  "Happy Bucks" were offered by Marlin Towne for his granddaughter's wedding last Saturday and Gary Ring for finding out that his sweat glands still work.  Bonnie Baerwald was the 50/50 Raffle drawing winner on Monday and she drew the Six of Spades, not a winner.  Next week's drawing will have 39 cards, including seven pay cards, and a pot of at least $160.
Katie Grinstead, Fond du Lac County Fair
Katie Grinstead  joined us on Monday to tell us about the FDL County Fair and how long she's been involved with the Fair.  According to Katie the County Fair has changed a lot in the last 10 – 15 years.  She remembered how the various exhibitors used to take up several buildings but now is significantly smaller.  A new feature the past several years is a live birthing display at the County Fair.  Her family farm has brought cows the past two years that potentially deliver their calves during the Fair and if they delivered the general public is able to watch the process.  Katie also said that others brought horses and goats to the birthing exhibit.  She also talked about the Fairest of the Fair competition that's held every year.  She noted that the competition is open to both males and females although only females have been participating.  There is an application process that includes a 30 second PSA that could be used on the radio.  The applicants go through a full day of interviews with local radio, Fair Board interviews, lunch with all of the applicants and an evening banquet and the final selection of the current year Fairest of the Fair.  The duties of the winner are to promote the County Fair throughout the county and with the local media.  During the Fair itself the winner will greet attendees, participate in various parades and other events as needed.  Three scholarships are awarded to the winner ($750) and first $250) and second ($100) runner ups.