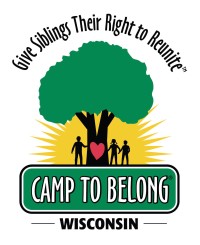 Monday Morning
We had 17 members at our Monday meeting along with our guest speakers, Kate & Rob Bauer from Camp To Belong. Gary Miller had a Happy Buck for having programs in place through March 23. Charlene reminded members of the Club Satellite Project Linus event on February 10 at the MPTC Cafeteria with drinks and maybe dinner to follow at Schmitty's Oar House. Gary Miller asked for any and all members that could make it to attend Wednesday night's City Council meeting where a Kiwanis Anniversary Proclamation will be read. Gary Ring reminded everyone to update their membership bio for the master book. Jackie King was the 50/50 Raffle winner and John Cooper drew the Ten of Diamonds for her, a $10 winner. The drawing in two weeks will have 51 cards, including eight pay cards, and a pot of at least $1.
Rob and Kate Bauer, Camp To Belong
Kate and Rob Bauer (Co-Directors of CTB-WI) met in 1998 volunteering at a camp in Wisconsin for children with juvenile arthritis. For over 15 years Kate and Rob have volunteered at camps for children. Their experience of seeing the positive impact that attending camp had on the campers and volunteers led them to commit to bringing CTB to Wisconsin. Kate and Rob have volunteered for Camp To Belong for twelve years. In August of 2013 they attended CTB-Colorado. Upon return home they immediately began working on the development of CTB-WI. In January of 2014 they identified Camp Anokijig in Plymouth as the host site for their first Camp To Belong summer camp.
CTB-Wisconsin connects and reunites siblings involved with the child welfare system. This includes separated siblings regardless of what their particular living arrangements are (i.e. biological home, kinship providers, foster homes, adoptive homes, living independently). Their mission is for separated siblings to build and maintain connections through a variety of programs. The main program is a summer camp at which children placed in out-of-home care can be with their biological siblings to build shared memories and connections.  Check out more about this awesome camp on their website.