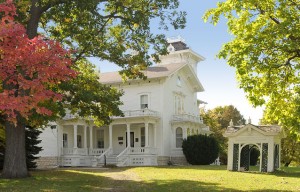 Monday Morning
We had 14 members at Monday morning's Tour of the Galloway House Gardens along with our tour guide, Eileen Blackburn of the FDL County Master Gardeners Club.  It was beautiful morning for a walk in the gardens.   There was no 50/50 Raffle so the next drawing on September 15th will have 11 cards with two pay cards and a pot of at least $552.
Galloway House Gardens
Eileen Blackburn graciously met us at the Galloway House Monday morning to give us a tour of the various things that she and her merry band of volunteers have accomplished this year at the Galloway House.  Eileen joined us back on July 21st and told us how she became involved with the Master Gardeners Club in Fond du Lac and also how she got involved with the Galloway House Garden Renovation Project.
The tour started with donuts and juice in the Pavilion and then moved to the Log Cabin.  Here Eileen explained that she tried to have plantings that represented the era and the building, so at the Log Cabin she had wheat and a branch fence out front with several wild flowers on the side of the Log Cabin.  We then moved to the Rose Garden which is an ongoing work in progress.  All of the hostas are being moved to the hosta garden and new roses are on order for completing this piece of the overall project.  Eileen then took us to the spot that will be English Heritage Garden.  This 500 sq. ft. garden will have benches along with rose bushes and other Wisconsin flowers that will bloom in June, July and August.  This will be a tranquil setting that will incorporate color, smell and maybe even taste.  We walked through the hosta garden on our way to the maintenance shed and the end of our tour.  Eileen proudly announced that their effort at the Galloway House won them the FDL County Beautification Award this year.  Well Deserved!!