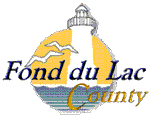 Monday Morning
There were 12 members at our Monday meeting plus two guests. Joining us were our speaker, Allen Buechel and Key club member, Roxie Mulhalland. Charlene handled the prayer and rumor. Happy bucks came from Gary Miller and Jan. Side note – Del is at home. Call for an appointment to visit. Monday's 50/50, Steve was the winner. He drew the six of clubs, no winner. Raffle will have 19 cards in the game including the five pay cards with a pot of about $441.  We have a projector for our speakers; please contact Gary Miller if you need it. Speaking of programs for the future, get information to Dave or myself.
Allen Buechel, Fond du Lac County Executive
Allen has served as Executive since 1993 after serving on the County Board for 17 years. Some of Allen's highlights are piloting a welfare reform program starting in 1994, county's program for long term care program for elderly, and regional medical examiners program serving 14 counties. Other major projects include addition of the new University Center, consolidation of four dispatch services, safety upgrade to airport, expansion of county golf course, three new parks and major expansion of the jail. Allen talked about temporary changes to the intersection of Hwy K and Hwy 23. Because the Hwy 23 project is on hold, they need to make changes to handle the new traffic load. It will be similar to the intersections on the bypass. They are upgrading Hwy V and Hwy 151 bypass.  Hwy 45 over 151 will lose it off ramps to 151 and become a county road. And finally Harbor Haven is being remodeling. Thanks to Allen for the update and any questions.