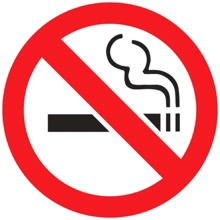 Monday Morning
We had 17 members at Monday's meeting along with four guests,  Sara Ballwanz & Cindy Duffy from the NFDL Post Prom Committee and Maria Wusterbarth from the Oakfield Post Prom Committee along with our guest speaker, Sandy Bernier from Fond du Lac County Tobacco Control.  Gary Miller, Chair of the Youth Services Committee presented donations of $100 each to the NFDL and Oakfield Post Prom project.  Gary also announced that the Friends of Taylor Park Pool were holding a fundraiser "Blues Concert" this Saturday evening (3/8) at the Elks' Club starting at 7:00PM.  Chris Serres was the 50/50 Raffle winner and she drew the Five of Diamonds, another $5 winner.  Next week's drawing will have 30 cards with five pay cards and a pot of at least $288.
Fond du Lac County Tobacco Control
5 Counties for Tobacco-Free Living serves Fond du Lac, Green Lake, Marquette, Washington and Waushara Counties. Their mission is to create nicotine and tobacco-free environments in which we live, work and play while promoting healthy lifestyles through education, advocacy and policy.
Despite the fact that you must be 18 years of age to purchase or possess tobacco products, more than 80% of current adults who smoke started as teens. The coalition works with local school districts and youth-serving organizations on youth prevention strategies. The coalition also conducts tobacco retailer compliance checks, monitors the marketing practices of the tobacco industry, and supports efforts to increase the price of tobacco products.
Exposure to secondhand smoke increases the risk of heart disease, asthma, cancer and many other chronic health conditions. Smoke-free building policies are the only effective means to eliminate this risk. The Coalition is available as a resource to help local businesses develop or expand tobacco free policies.
If you need additional assistance with a tobacco-related issue, or are interested in promoting tobacco free policies, contact Sandy Bernier, Program Coordinator, at (920) 906-5537 or their website