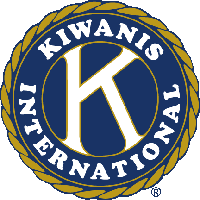 Monday Morning
We had 19 members for our Monday meeting back at the Retlaw Hotel.  Our program speakers were members Donna and Gary Miller.  Vickie Goldapske noted that her clinic was participating in the Save-A-Sole Challenge in conjunction with the Salvation Army and Payless Shoes.  Donations for this effort can be dropped off at Vickie's clinic on South Park Avenue.  Gary Miller is looking for program ideas for the last two Mondays in August and all of September if you can help him out.  Glen Treml was the 50/50 Raffle drawing winner on Monday. Unfortunately he drew the Two of Diamonds, which was a non-winner.  Next week's drawing will have 31 cards with five pay cards and a pot of at least $265.  Multiple members also received door prizes from Donna and Gary from the International Convention.
Gary & Donna Miller, Kiwanis International Convention Report
Donna and Gary Miller provided Monday's program recapping the recent Kiwanis International Convention held in downtown Indianapolis.  Donna started by saying that this was her first International Convention as an authorized delegate of our Club even though she's attended previous conventions as Gary's guest.  Donna noted that women were first allowed into Kiwanis in 1987 and the first female president will assume her role in 2017, 30 years after they were allowed to join this international service organization.  Donna noted that there were 3,000 delegates at the International Convention but only 1,300 actually took part in the voting on the various issues that were presented.  Gary summarized the various amendments that were presented with the most significant being a dues increase of $10 and a rejection of web based voting on International amendments.  Gary also gave an update on the Eliminate Project to date.