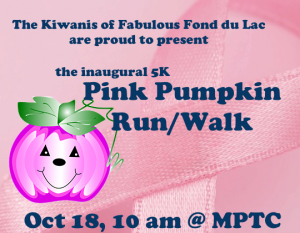 Monday Morning
We had 21 members at Monday's meeting which included our Club Satellite member  guest speakers, Brenda Schaefer and Jeff Stueber. There were no Happy Bucks, probably because everyone was bummed out about the Badger Football team route on Saturday night.  Marlin Towne was the 50/50 Raffle winner and he drew the Eight of Clubs, another non-winner. Next week's pot will be $65 with 47 cards left in the deck and nine pay cards.
1st Annual Pink Pumpkin Walk/Run Recap
Brenda Schaefer and Jeff Stueber from the Club Satellite joined us on Monday morning to recap the 1st Annual Great Pink Pumpkin Run/Walk.  They began by thanking both the Host Club and the Club Satellite for all the support, both financial and moral, to make this event such a success.
The idea for this fundraising run started several years ago when Jeff Stueber started thinking about a way to raise breast cancer awareness and raise some money for the cause.  He posed this project to his Business Practice Firm class at Moraine Park Technical College, where Jeff is an instructor.  Students treated the project as if they were starting their own business. They needed to come up with a name, concept, logo and design, take care of logistics and garner support from the community. The students were able to include their work in their professional portfolios.
Not only did Jeff's class take off on this project but so did a number of other MPTC students, faculty and student organizations.  Another key figure in this entire adventure was fellow Club Satellite member Brenda Schaefer.  She not only invested her personal time but she also help to coordinate and solicit assistance from MPTC students and faculty as well as help Jeff get over 300 pumpkins painted pink before the race.
The original goal for the run was to have 200 runners/walkers participate.  Imagine the excitement when the registrations pushed over 300 and finally ended at 310 participants.  This event raised over $9,600, $6,000 of which was donated to Breast Cancer Recovery for Infinite Boundaries Retreats with the remaining $3600 held in escrow as seed money for the 2nd Annual Great Pink Pumpkin Run/Walk to be held on October 17, 2015.