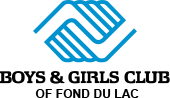 Monday Morning
We had 10 members at our Monday tour of the Boys & Girls Club in spite of the cold and snowy start to the week.  Gary Miller brought a nice selection of donuts and other goodies along with coffee and juice so no one went away hungry.  There was no 50/50 Raffle drawing on Monday so next week's drawing will have 51 cards, including eight pay cards, and a pot of at least $1.
Boy's and Girl's Club of Fond du Lac
Dan Hebel, Chief Professional Officer of the Boys & Girls Club, welcomed us on Monday morning for a tour of the local Boys & Girls Club.  Dan has been with the local Boys & Girls Club for the past ten years and for the last year and a half as their permanent Chief Professional Officer.  Dan joined the local Boys & Girls Club right out of UW-LaCrosse and has held just about every job at the Club, so he knows the operation from the bottom to the top.
Dan took us on a walking/talking tour of the Club and noted that the Club is divided into two age groups; teens and elementary.  Dan started with the Teen Center (located in the old pool of the YMCA) and told us about the various programming that goes with the Teen population.  Then we moved into the elementary space, which is structured much like an elementary school layout.  Dan talked about how the schedule works for the elementary members and the various things that those kids get to do during their time at the Club.
Dan also talked at length about the partnerships they've developed with:
Johnsonville Sausage Company
Fond du Lac YMCA
Fond du Lac School District
Fond du Lac Area Foundation
Fond du Lac Area United Way
21st Century Learning Center Grants
Without these outstanding partners the Boys & Girls Club couldn't provide the varied programs they do to the youth of our community.
The Boys & Girls Club operates out of their main location connected to the YMCA and also extension after school programs at Chegwin and Pier Schools.