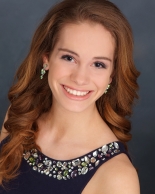 Monday Morning
We had a lighter turnout of 14 members and our guest speaker, Sarah Niehueser and her mother, Pam, at our Monday meeting.  Happy Bucks were offered by Glen Treml for the Packer win and for having survived another Christmas and Gary Miller offered a Happy Buck for a successful 2014 Kiwanis Year.  Charlene noted that the Social Committee is organizing an after Project Linus gathering for drinks on February 3rd; more details to follow.  Gary Ring announced that the Membership Committee is going to be updating the Membership Bio Binder.  Watch for a request to update or enter your bio in the near future.  Sharon Kollman was the 50/50 Raffle winner this week and she drew the Ten of Clubs, a $10 winner.  Merry Christmas to Sharon.  Next week's drawing will have 44 cards with eight pay cards and a pot of at least $99.
Sarah Niehueser, FdL Miss Outstanding Teen
Sarah Niehueser, 16, of Fond du Lac was crowned Miss Fond du Lac's 2014 Outstanding Teen at the local pageant held on Saturday, March 8, 2014 at the Goodrich Little Theater.  Her platform was women on target – competitive target shooting for women and her talent was piano.  According to Sarah her favorite event in the pageant was the evening gown competition.
Sarah is a student at Winnebago Lutheran Academy (WLA) who runs Cross Country and is involved in other activities at WLA.  She never thought of doing a pageant until someone approached her and encouraged her to give it a shot.  Sarah was picked the winner out of a field of six contestants and has had a wonderful year so far making various appearances as the Miss FDL Outstanding Teen.  Sarah's mother, Pam, joined her on Monday and is Sarah's official chaperone and photographer.  Not only did Sarah win the local competition but she also competed at the National Pageant in Ohio.