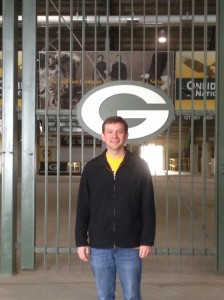 Monday Morning
We had 16 members at Monday's meeting back at the Retlaw Hotel along with our guest speaker, Jason Pettit and an InterClub from the Oshkosh Mid-Morning including Todd Ceman, Travis Duchatschek, Gary Konrad and Bill Steinhilber.  Happy Bucks were offered by Steve Millin for the recent wedding of his son, which is also his last wedding, he hopes, Marlin Towne ($3) for his recent Honor Flight to the Korean War Memorial in Washington, DC, he didn't need a walker or a cane like many of the others and he reconnected with a friend from Kewanee who was in his unit in Korea and finally, Ron Seidl for getting enough help to man the grills at next week's Pork Fest.  Dave Twohig was the 50/50 Raffle winner and he drew the Jack of Clubs, unfortunately for Dave, not a winner.  Next week's drawing will have 10 cards with two pay cards and a pot of at least $569.
Jason Pettit, Marathoner
Jason Pettit has been selected as a Mentor for the 2014 Chicago Marathon ACS DetermiNation team!  This will provide him the opportunity to work with marathoners and cancer fighters this year as he runs the Chicago Marathon for a cause much bigger than himself.
It's up to us to change the course of cancer – and Jason believes in the work the American Cancer Society is doing to save lives. Every day, they're helping people stay well and get well, they're funding and conducting research to find cures, and they're rallying communities to join them in fighting back. More than 11 million Americans who have a history of cancer will celebrate another birthday this year. You can support Jason with a donation and follow his progress here, so that together, with the American Cancer Society, we can help save lives and create a world with less cancer and more birthdays. Good work, Jason!