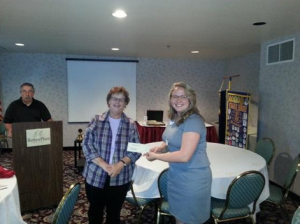 Monday Morning
We had 17 members and our guest speaker, Katie McCormick from the American Cancer Society.  "Happy Bucks" were offered up by Charlene Pettit for a weekend trip back to Iowa for a wedding and family get together but a rainy drive home and also by Steve Millin for not only his and Mary's wedding anniversary but also in celebration of his in-laws 68 year wedding anniversary celebration over the past weekend.  John Cooper was the 50/50 Raffle drawing winner on Monday but he drew a non-winning Seven of Spades.  Next week's drawing will have 34 cards with six pay cards and a pot of at least $224.
Katie McCormick, American Cancer Society
John Cooper introduced Katie McCormick, our local representative for the American Cancer Society (ACS) and also the local Relay for Life ACS Coordinator.  John & Charlene presented Katie with a check from our efforts at last year's Relay for Life Brat Fry.
Katie then talked about the history of the local Relay for Life.  The local Relay started 30 years ago in 1985 and raised only $19,500.  Last year's Relay raised over $210,000, even with the ugly weather they had, and over the past 30 years they've raised over $5.7M.  ACS estimates that over 400 lives a day are saved as a result of the funds raised by the various Relay for Life events held around the county.  Katie also noted that ACS gets 70 cents of every $1 raised back into patient related programs, many of which our local citizens are able to take advantage of right in our local community.