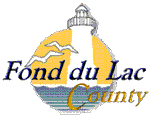 Monday Morning
There were 17 members at our Monday meeting plus one guest. Sam Tobias was our guest speaker. Sharon had humor for the morning. She is a natural. Dave Twohig led us in prayer.  Dan Leeds and Dave Lefeber greeted the group. Sharon picked the three of clubs for a non-winner. Next Monday's 50/50 Raffle will have 35 cards in the game including the five pay cards with a pot of about $225.  Happy bucks came from Sharon for her vacation in Jamaica. Don't forget Dan's Annual School Auction. See the attachment for more details. West Bend Kiwanis Chili Cook Off is February 6th. Side note-we donated our old trophies to ARC.
Sam Tobias – Fond du Lac County Planning and Development
Sam talked about the different parks and trails in Fond Du Lac County. He recommended that we visit the Parks and Trails section on the county web page, www.fdlco.wi.gov . Hobbs Woods is the most used park. Riggs Park in Ripon is the lightest use park. The Ripon Kiwanis is helping to build a splash pad at Riggs. Columbia Park will get a fish cleaning station this summer. Waupun has both a playground and a disc golf course. Some day if highway 23 is completed, it will have a bike trail similar to the Sheboygan section of 23. Someday, they would like to complete the bike trail from Eden to Fond du Lac. As well as the bike trail through Rosendale. Fond du Lac is fortunate to have a number of great parks and trails, visit the county web for all the details.