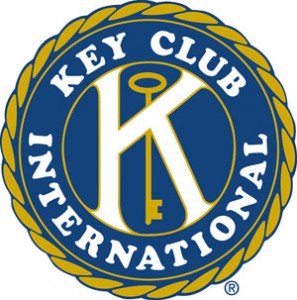 Monday Morning
There were 19 members at our Monday meeting along with our guest speaker, Annie Moore, President of the Fond du Lac High School Key Club.  "Happy Bucks" were offered by Harry Schneider for the Pork Fest being over and also for a very enjoyable Oktoberfest in Appleton, Dan Leeds for his newest granddaughter, Charlene Pettit for a well done Pork Fest and Gary Miller for Annie Moore joining us on Monday morning.  Marlin reported that meals served at the Pork Fest were down about 260 from last year at 1,355.  There were 751 take outs and 604 dine in meals.  More results will be reported as all the expenses are tallied.  Dawn Scannell was the winner of the 50/50 raffle drawing and she drew the Ace of Clubs, not a winner.  Next Monday's 50/50 Raffle will have 51 cards in the game including the nine pay cards.
Annie Moore, Fondy High Key Club
Annie Moore, President of the FDL High School Key Club, joined us on Monday to outline the plans for the Key Club this year.  Annie said the Club has three major goals for this year:
More active participation of more members.  Currently it appears that 80 dues paying members will be in the Club.  How they get more participation from these members will be the challenge.

Increase fund raising efforts to build the treasury so they can continue to supply Golden Books to the newborn babies at Agnesian HealthCare.

Attempt to get more Key Club members to out breakfast meetings on Monday and get to know our members and vice versa.
The Key Club will be cleaning up their section of Hwy 23 East of Fond du Lac on Sunday.  They also are tentatively planning their StoryBook Land on February 20th and Youth Services Day will be April 27th , both major service projects.