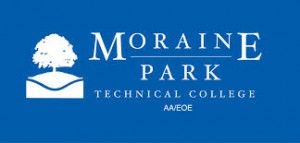 Monday Morning
We had a very small turnout at Monday's Road Trip to Moraine Park Technical College (MPTC).  Seven members ventured out and found our destination at the Library at MPTC where we had a bountiful and varied array of breakfast breads, sweet rolls, fruit and beverages.  The students at MPTC were sure to enjoy whatever was left after our meeting.  Gary Miller searched long and hard to bring a piece of humor and did a very nice job with a Christmas themed piece of humor.  There was no 50/50 Raffle on the road so Monday's drawing will have 40 cards with eight pay cards and a pot of at least $166.
 Moraine Park Technical College Library Sciences
Charlene Pettit introduced who is the Moraine Park Technical College Library Services Coordinator.  Hans has been the Coordinator for the past five years after Charlene officially retired and Hans ascended into her role.  Hans has responsibility for all three campus libraries, Fond du Lac, West Bend and Beaver Dam.  Hans talked about the purpose of the MPTC libraries as a resource for students to work on homework, do research for projects and actually work with other students on group projects and video presentations.  During the tour of the library Hans noted that a large computer lab has been relocated to the library area and staffed by library personnel vs. its previous standalone location.  Also noted in the library tour were several private student work rooms within the library that could be used by students for project meetings, video productions and even video conferencing with other campus libraries.  While there were a number of paper books in the library, it was very evident that technology is a significant asset at the MPTC library.
Hans also talked about the new GED testing process that is the responsibility of the library operation.  Effective January 1st, MPTC libraries will become a Pearson VUE testing center and all GED testing will now be done through Pearson VUE in addition to a large number of other testing opportunities for a variety of professional organizations and regulatory requirements.