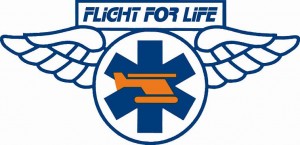 Monday Morning
We had a nice turnout of 14 members and one guest on Monday for our tour of the Flight for Life operation at the Fond du Lac County Airport. Dave Lefeber brought donuts and juice so everyone was happy, including the flight crews from Flight for Life. The next 50/50 Raffle drawing will be on Monday and will have 20 cards with five pay cards and a pot of at least $440. We're starting to talk real money so get your ticket(s) early.
Flight for Life
Flight for Life transported their first patient in January 1984 from Eagle River Hospital to the then Milwaukee Regional Medical Complex. Since then they have expanded to two remote bases in McHenry, IL and Fond du Lac and have transported well over 33,000 patients. They just celebrated their 30 year anniversary in the fall of 2013.
When we arrived at the Flight for Life hanger on Monday they were going through a pilot shift change at 6:30 and medical crew change at 7:00. We were fortunate to hear from both the medical crew members as they were going off shift or coming on shift. The typical crew on any given flight is the pilot, a nurse and a paramedic. It is possible for a flight crew to have two nurses on a flight with no paramedic but it's never able to have two paramedics and no nurse. The paramedics normally sit in the second seat of the cockpit and help the pilot with things like navigation and radio operations on the way to a scene. Once the patient is in the helicopter both the medical personnel are available to care for that patient and the pilot may be on his own.
All three of the flight crew work 12 hour shifts, typically three shifts per week. The pilots have to have a minimum of 2,000 hours experience as a helicopter pilot to be considered for Flight for Life while the nurses have to be an RN or higher and the medics are paramedic trained. Nurses and paramedics are required to have a minimum of three year's experience in critical care or trauma work to be considered for Flight for Life. They also need to be able to work well under pressure. Of the 13 pilots on staff only two are non-military trained.
Fortunate for us, we were able to experience an actual call for the Flight for Life to respond to an accident on Hwy 41 and Cty B. Once the call came in, the crew did their assigned duties and were able to get in the air in less than ten minutes.