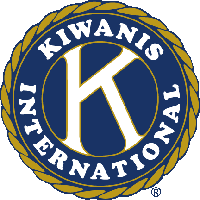 Monday Morning
We had 16 members at Monday's Annual Club meeting and Elections.  Bonnie Baerwald announced that the Children's Museum is looking for a couple of volunteers to help with waterproofing the Garden Shed about 1:00PM to however long it takes to complete the waterproofing project on Sunday, May 18th at the Children's Museum on Scott Street.  Let Bonnie know if you can help.   Bonnie also announced a Wild Goose Trail Clean Up on Saturday, May 10th.  Check out the details under Kiwanis Happenings.  A "Happy Buck" was offered by Gary Ring for finding out that Grandma Lois will have a grandson later this year. They found out at a "Reveal Party" this past weekend in Chicago.  Pete Vercouteren was the 50/50 Raffle winner and he drew the seven of Clubs, not a winner.  Next week's 50/50 Raffle drawing will have 24 cards with five pay cards and a pot of at least $378.
Annual Club Meeting
Monday was our Club's Annual Meeting and Election of Officers and Directors for the administrative year that begins on October 1, 2014. The Club Satellite members voted on Thursday, April 17th and the Host Club voted on Monday. The results of both votes were combined and the results are shown below. Congrats to all and thanks to everyone that agreed to run for an Office or Director seat.
Dan Leeds, Gary Ring and Pete Vercouteren then did a short program on how to think about increasing our Club's membership, be it at the Host level or the Satellite level. Three questions were posed to the members:
Why do we come on Monday morning?
What's our Club's impact on the Community?
How do we do what we do successfully that positively impacts our Community?
A discussion was held on how we use the answers to these questions as we think about who we can ask if they'd like to be members of our Club.
2014-2015 Kiwanis of Fabulous Fond du Lac Club Officers and Directors: 
President – Charlene Pettit
President-Elect – Gary Miller
Vice President – Dave Twohig
Treasurer – Chris Serres
Directors (incoming) – Dan Leeds, Jan Krug, Gary Ring