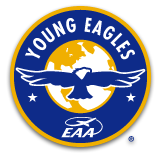 Monday Morning
There were 18 members at our regular Monday meeting back The Retlaw.  "Happy Bucks" were offered by Bob Kahl for   his 54th wedding anniversary, Steve Millin for the birth of their newest granddaughter and Vickie Goldapske for another completed Fondue Fest.  Get Well cards were circulated for Beckie Krug and former member Ron Seidl.  Keep them both in your prayers.  The Secretary was missing in action again so there was no 50/50 Raffle, sorry folks.  The next 50/50 drawing on September 21st will have 27 cards with five pay cards and a pot of at least $333.
EAA Young Eagles
Ever wondered what your neighborhood looks like from the sky? Or maybe you're curious how airplanes even work. You might even dream about being a pilot. If you're nodding your head "Yes" and are between the ages of 7 and 17, you're ready to take a free Young Eagles flight and see what real pilots do on the ground and in the air.          
Since 1992, more than 1.9 million Young Eagles have enjoyed a flight from EAA's network of volunteer pilots. For many, it was the start of their journey to becoming a pilot, aircraft mechanic, air traffic controller, or many other career possibilities. 
The Fond du Lac EAA Young Eagles Chapter does about 20 Young Eagle flights twice a year, usually June and September.  At the time of their Young Eagle flight, they do a preflight inspection with their pilot along with a theory of aviation and what altitude and speed mean in the flying process.  The free flight goes over the NFDL rail yards, Lake Winnebago, St. Mary's Springs Campus down to Lake DeNeveu and then back to the airport.  The flights typically take 15 to 20 minutes.  If you  know someone that's interested in one of these flights feel free to contact any EAA member and they'll get you hooked up.