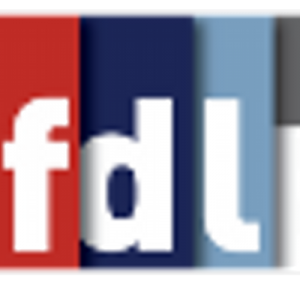 Monday Morning
There were 13 members plus one guest at our Monday meeting.  Sarah Newton was our speaker. Pete and Bonnie were our greeters. Harry had the grace. Harry had the humor. Chris was a winner and non- winner. She drew the six of spades.. We still have 33 cards, 5 winners and a pot of $250.00. Happy bucks from Bonnie and Pete.  Dan announced that Trinity Baptist School is having "Soup Up!" on March 2nd at their gym. Side note – Del is at home and loves visitors.  Remember that we have a Kiwanis web page and Facebook. If you are on Facebook, like our page.  We have a projector for our speakers; please contact John if you need it. Speaking of programs for the future, get information to Jackie or myself. Member names are being added under Programs for your future dates.
Sarah Newton, FdL Children's Library
We worked with Sarah to install the Story Book Walk at Lakeside in 2014. Last year, they installed another Story Book Walk at Hamilton Park.  They are developing more areas in the libraries for children to read. They have building block games for the older kids at the library. In addition, they have checkers and cards to play. Kids have to be 8 yrs. old to be left alone in the library. They are working with groups such as Blue Line and Eden Elementary for new programs. This year the Children's department will be carpeted and FDL Express will be restaged.