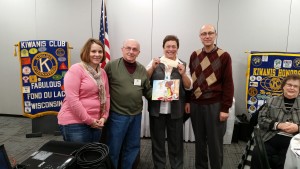 Monday Morning
There were 16 members at our Monday meeting plus one guest. Donna Altepetea was our guest speaker. Gary had humor? Gary also led us in grace. Charlene was our greeter. Our speaker picked Sharon again. She picked the Jack of clubs for a non-winner. Next Monday's 50/50 Raffle will have 33 cards in the game including the five pay cards with a pot of about $245.  Happy bucks came from Gary Miller. Reminders, if you are bringing a speaker and need a projector, contact Gary Miller. He has the projector at his house for security reasons. Dan announced that the Trinity Soup dinner is March 3rd at the Trinity's school gym. Cost is $7 and Dan will have tickets.  In addition, Dan is the soup maker. Dawn has a interclub planned for February 18th. It is the Noon Club's Chili and Grilled Cheese lunch at the American Legion hall. Cost is $6.
Donna Altepetea – Grief Relief
Donna is the new director of Grief Relief. This program is part of Agnesian Bereavement Support Program. Grief Relief serves children who have had loss in of a close family member. It offers support to both kids and parents. They are also on call to help children in the school system with a loss of a fellow student. The bereavement program started with the hospice program and has grown to cover any death in the hospital or nursing home. The club donated $300 to buy a case of special books for the kids to use in their support groups. The photo is attached. The book was developed by United Healthcare. They also host a two day camp for their kids. Last year they had forty kids at Cedar Valley for the camp. Our own Gary ring was one of the volunteers. Gary also helps with one of the support groups. They always need additional volunteers 907-3940. Their big fund raiser is April 14th at the K/C Hall.