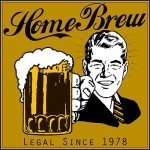 Monday Morning
There were 12 hearty members at Monday's meeting along with our guest speaker, Gary Ott, who was helping our primary speaker, Steve Millin. Gary Miller organized an InterClub to Tuesday's Noon Club. "Happy Bucks" were offered up by Vickie Goldapske for Jack's 8th birthday; Jan Krug for Del's getting out of the hospital and settling in at St. Francis Home for a week or two of rehab and Glen Treml for being back from his surgery. Marlin Towne was the 50/50 Raffle winner and he drew the Eight of Hearts, a non-winner. Next week's drawing will have 35 cards with seven pay cards and a pot of at least $223.
Steve Millin/Gary Ott, Home Brewing
Steve Millin brought along his fellow home brewer, Gary Ott, to tell us about home brewing of beer. Not only did he bring Gary but he also brought along all of his equipment and some of his product for sampling. Steve and Gary started their home brewing hobby in competition to Steve's two sons challenging them to see if they could do it. They started in 2008 and currently make about six batches of beer a year. Each batch yields about two cases plus a bottle or two extra.
Steve told us there are basically two types of beer, ale and lager. There are also always four ingredients in beer; water, malt, hoops and yeast. Surprisingly the kind of water that's used can affect the outcome of a batch beer. Also, yeast is the most important ingredient in a batch of beer. Gary and Steve described the process that they follow and how the various equipment is used. Steve brought along some samples from a couple of his batches for tasting.