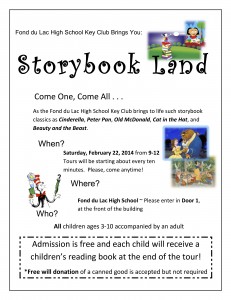 It is time once again for the presentation of "Storybook Land" by the Fond du Lac High School Key Club on Saturday, February 22. This year's stories include Peter Pan, Beauty and the Beast, Cowboy Cinderella, Cat in the Hat, and the song "Old McDonald." Parents are encouraged to bring children ages 3 to 10 to watch and engage with the various stories as kids travel throughout the morning from one story to the next.
The doors will open at 9:00 AM, and tours will begin about every ten minutes from 9:00 until 12:00. A complete tour of all of the stories takes about one hour.
Each child, after experiencing all of the five stories, will receive a free children's book, compliments of the Key Club. This event will take place at Fond du Lac High School, and all those attending are asked to enter in the main doors (Door 1) at the front of the building.
Please, come enjoy the presentation of these timeless classics in this free event open to all! A free-will donation of a canned good can would be appreciated but not required. The donations will go to the Fond du Lac Food Pantry.
The Key Club's goal is to promote literacy in both young and old. Key Club is a service group of high school students, with the assistance of the Morning Kiwanis, who work together to enhance the well-being of others and to support their community through charity work.
There is no task that the club will not attempt if someone needs help. Consider supporting the Key Club's cause by reading to children and bringing them to see this Storybook Land.