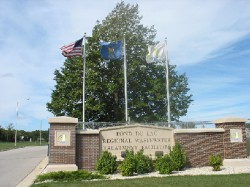 Monday Morning
There were 20 members at Monday's meeting along with our guest speaker, Autumn Fisher, Dave Krug's wife Beckie and Paula Thalacker from the Noon Club. "Happy Bucks" were offered up by Dan Leeds for a successful school auction fundraisers last Friday, Jan Krug for Del's going home from St. Francis, Harry Schneider for his lucky numbers in the Super Bowl, and Paula Thalacker ($2) for our Club getting up so early and for letting her sell tickets to their Feb 20th grilled cheese and chili fundraiser. Vickie Goldapske was the 50/50 Raffle winner and she drew the Eight of Diamonds, a non-winner. Next week's drawing will have 34 cards with seven pay cards and a pot of at least $240.
Autumn Fisher, Fond du Lac Waste Water Treatment Plant
Autumn Fisher, Dave Krug's niece, joined us on Monday to talk about the FDL Wastewater Treatment Plant (WWTP). Autumn is a graduate of UW-Oshkosh with a degree in Chemistry and has been a Laboratory Analyst/Chemist at the FDL WWTP for the past six years. Autumn distributed a nicely done color brochure that told the history of the FDL WWTP and outlined the process that waste follows through the plant. It also presented a number of pictures and diagrams that showed the plant at various stages of its existence. Autumn also had a PowerPoint that helped her show the various stages that exist in the FDL WWTP and what each of those processes accomplishes in the waste treatment process. Autumn also talked about the various plant expansions that have occurred over the years and how that's impacted the capacity of the plant and the efficiency and improved water quality that has resulted from those expansions. Autumn also talked in some detail about the probable changes in the State of Wisconsin regulations related to phosphorus and allowable limits in the waste water end result. The current limits are 1.0 mg/L monthly average and FDL WWTP averages 0.7 mg/L. It looks like the new State regulations will be in .04 mg/L. As Autumn put it so well, we can meet those limits, it's just a matter of what it will cost to meet the new limits. It will not be cheap.