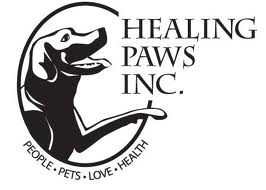 Monday Morning
We had 18 members along with our guest speakers, Colleen Sabel, Barb Williams and Steve Williams from Healing Paws Inc.  A "Happy Buck" was offered by Gary Miller to celebrate that his basement wall is hopefully fixed.  VP Gary Miller thanked everyone that attended the Evening Club Spaghetti Dinner to accomplish our InterClub for November.  It looks like we had ten members that made this event.  John Cooper was the winner of the 50/50 Raffle drawing and he drew a Two of Spades, another non-winner.  Next week's game will have 43 cards with eight pay cards and a pot of at least $114.
Healing Paws, Inc – Paws to R.E.A.D.
Colleen Sabel, Barb Williams and her husband, Steve, along with their dogs Kiki and Taz joined us Monday morning to talk about the Paws to R.E.A.D. program.  Healing Paws, Inc. is a non-profit organization committed to enriching the lives of children and adults in special circumstances, through safe therapeutic interaction with dogs and cats.   The Reading Education Assistance Dogs (R.E.A.D.) program improves children's reading and communication skills by employing a powerful method: reading to a dog.  R.E.A.D. dogs are registered therapy animals that volunteer with their handler as a team, going to schools, libraries, and many other settings as reading companions for children.  R.E.A.D. utilizes registered therapy animals that have been trained and tested for health, safety, appropriate skills and temperament. When these animals come to hear children read, it's fun and that makes all the difference!
The local R.E.A.D. volunteers go to several elementary schools in addition to public libraries in Fond du Lac, Lomira, North Fond du Lac, Campbellsport, Brownsville, Ripon and at Quad Graphics.  Public library visits can last anywhere from an hour to an hour and a half while school visits can take up to three hours.  There are current about eight dogs that are registered to participate in the R.E.A.D. program out of the 20 or so dogs that are in the overall Paws for Healing therapy program.  Funding for Healing Paws, Inc. and the R.E.A.D. program come from private donations and fund raisers.