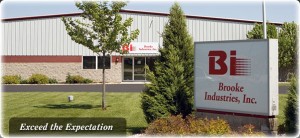 Monday Morning 
We had 18 members at our Monday meeting for the second week in a row. Also joining us was Sue Grich, guest speaker from Brooke Industries. Happy Bucks were offered by Harry Schneider for the huge Packer win against Dallas and by Bonnie Baerwald for her recent appointment as interim President at MPTC. Bonnie was appreciative of all of the favorable comments from Club Members and community friends.  John Cooper was the 50/50 Raffle winner this week and he drew the Ace of Spades, another non-winner. Next week's drawing will have 42 cards with eight pay cards and a pot of at least $130.
Sue Grich, Brooke Industries
Sue Grich is the Counseling Services Coordinator at Brooke Industries, and she joined us on Monday morning to tell us about Brooke Industries.
Brooke Industries, Inc. is a private, not-for-profit manufacturing and rehabilitation facility designed, equipped and staffed to provide individuals with disabilities assistance in achieving their highest level of personal and vocational functioning.
They offer an array of programs including: organizational employment services, transitional and adult day services, vocational assessments, supported employment services, case management and vocational counseling, and life skills training. Brooke Industries also has an active volunteer base committed to ensuring comprehensive opportunities are available for individual goals and interests.
The mission at Brooke of providing high quality service and choice is enhanced by a one-stop manufacturing facility that focuses on people, product, and service. They pride themselves in their ability to offer a variety of customized production services and solutions based on the needs of customers.
As an industry leader committed to developing a diverse and valued workforce, Brooke Industries, Inc. strives to exceed the expectation of quality and levels of service to the business and rehabilitation communities.
Brooke Industries operates within 63,000 square feet of production and warehouse space located at 1257 Industrial Parkway in Fond du Lac. They currently serve over 200 individuals with disabilities each year and distribute product internationally.