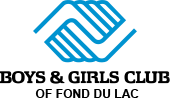 Monday Morning
We had 19 members along with our guest speakers, Karissa Schneider and Pam Sippel from the Boys & Girls Club of Fond du Lac.  A "Happy Buck" was offered by Sharon Kollman for being back from Florida and 80 degree weather.  President Dave reminded everyone that the Evening Kiwanis Club Annual Spaghetti Dinner is this week, Wednesday, November 13th, at the Eagle's Club.  If you attend let Glen Treml know and you'll get an attendance credit as this will probably qualify as an InterClub.  Chris Serres was the winner of the 50/50 Raffle drawing and she drew a Three of Diamonds, not a winner.  Next week's game will have 44 cards with eight pay cards and a pot of at least $101.
 Boy's and Girl's Club of Fond du Lac
Karissa Schneider, Director of Operations, and Pam Sippel, Johnsonville Unit Director, at our local Boys & Girls Clubjoined us on Monday to talk about what's new at the Boys & Girls Club.  Karissa started by outlining their mission; The Mission of the Boys & Girls Club is dedicated to empowering all young people to reach their full potential as productive, caring, responsible citizens through academic, social and emotional support.  Karissa also told us that there are no income restrictions on membership in the Boys & Girls Club so anyone can join and participate.
Pam talked about their three After School Programs at the Johnsonville After School Clubhouse with satellite After School programs at Pier and Chegwin Elementary Schools.  Transportation is provided on regular school days to the various after school programs.  Homework help and enrichment programs are offered on a nightly basis at all of the sites.  Enrichment programming at the Johnsonville Club may include access to YMCA facilities like the dance studios, swimming pools and/or gymnasiums.  A nutritious meal is offered to all members each night at no cost.
There is also a Summer Program that runs out of the Johnsonville Club location that runs for a ten week period from 9:00AM – 5:00PM.  There is also a Teen Center program that operates out of the Johnsonville Club location during the school year in the evening for 6th through 12th graders.