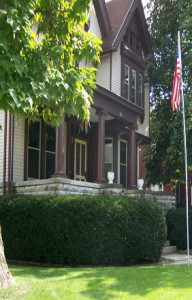 Monday Morning
We had a light turnout of 13 members at Monday's meeting along with our guest speaker, Dave Engebretsen from the Blandine House. "Happy Bucks" were offered up by Gary Ring to celebrate that Lois was going to be a grandma, Gary Miller for his return from a 4,000 mile geo-caching trip, Vickie Goldapske for seeing "Wicked" at the Appleton PAC and it was awesome and Jackie King to celebrate her son's 150 lb. sturgeon spearing success. Gary Miller reminded everyone that the Noon Club was holding their "Grilled Cheese & Chili" fundraiser on Thursday so he's looking for members that attended so he can document an InterClub. Our speaker, Dave Engebretsen, was the 50/50 Raffle winner and he drew the Queen of Spades, close but no cigar. Next week's drawing will have 32 cards with 7 pay cards and a pot of at least $268.
Dave Engebretsen, Blandine House
Blandine House was dedicated on Dec 13, 1970 and was born out of the spirit-driven mission of Sister Blandine Eisele, who felt spiritually moved to develop compassionate programs for suffering alcoholics. Sister prayed about the dilemma of finding a down payment for a residence she sought, a benefactor came forth (Ben Sadoff) and Blandine House has not stopped living out the mission of Sister Blandine.
Over the years Blandine House has evolved into a long term care residential treatment center that includes the transitional component of guiding recovering men back into the world as responsive and responsible individuals.
Blandine House Inc. is a non-profit facility and is governed by a board of directors who have volunteered their time, energy and guidance to continue to follow and expand upon the original vision of Sister Blandine to help alcoholics and addicts. The Blandine program is certified under Wisconsin DHS 75.14.
Referrals come from various county, native, state or private agencies as well as generated from personal motivation and private pay. A limited number of insurance providers will fund our service. The average length of stay is around 90 days.
Blandine House has capacity for 12 men at any given time and is staffed by the Executive Director, a full-time and part-time counselor and off hour's house managers.