Monday Morning
We had 17 members at Monday's meeting along with our guest speaker, Ryan Haus. Steve Millin had a "Happy Buck" for the Badgers wins in the NCAA Tournament in Milwaukee on Thursday and Saturday, and Gary Miller for his son still having all four of his teams still in the tournament. Gary Ring made a small correction to the Cheers for Volunteers award event; it's going to be dinner on May 2nd vs. lunch as originally announced. Cocktails start at 5:30PM  with dinner at 6:30PM and the awards program to follow at the Holiday Inn. Gary Miller announced an InterClub to the Noon Club on Tuesday and was able to get four members to commit to attend. Bonnie Baerwald was the 50/50 Raffle winner and she drew the Ace of Clubs, not a winner. Next week's drawing will have 27 cards with five pay cards and a pot of at least $331.
Ryan Haus, Lakeside Park Youth Baseball Complex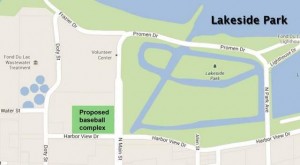 Ryan Haus joined us on Monday morning to talk about an opportunity in our community to build an exciting new multi-use baseball field complex at Lakeside Park.There is a significant need for this project and is being performed with cooperation between FDL Youth Baseball, Fond du Lac School District, Fond du Lac Recreation Department and the City of Fond du Lac. The proposed complex will allow our community to offer new, improved and expanded activities for resident of all ages.
The proposal is to build two new youth baseball fields that will be used primarily by youth baseball players (12 years old and younger). Part of Lakeside Park is being offered by and leased from the City to use for the facility. The facility will be managed by the FDL Recreation Department for scheduling and maintenance. Once the facility is built it will be funded through its use and concessions. The fields will expand the use and improve the beauty of Lakeside Park and will provide a new facility that will offer programs for all ages while being available for use to the public. The proposal includes fields, lights, batting cages, pavilion/shelter, bleachers, playground equipment, etc.
 The projected cost of the entire facility will be about $400,000. It is intended to be built in phases as funds are raised and not to incur any debt for this project. The baseball fields will be first followed by the concession/bathroom building and lastly the lights, almost $100,000 of the total.