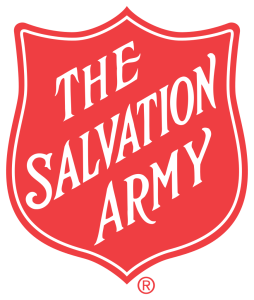 Monday Morning
There were 19 members at our Monday meeting plus one guest. Our guest speaker were Telinda Wilson. Happy bucks came from Gary Miller for returning home, Dan for going to London, Harry for his birthday, Bob for his birthday and for the Packers. Special thanks to our greeter, Del. Charlene handled the invocation and Jackie aka Bob had some humor. Bob was the ticket winner. He drew the seven of diamonds for no money. Next Monday's 50/50 Raffle will have 40 cards in the game including the six pay cards with a pot of about $165. Marlin reported that Christmas presents for our "adopt a family" are delivered. We also purchased $130 in food cards thru the members donations.
Captain Telinda Wilson – Salvation Army
The Wilsons have been here since October 2013. This is their second appointment. Their last appointment was from a small town in Indiana with 9,000 people. William Booth founded the Salvation Army 150 years ago. The chapter in Fond du Lac was formed 125 years ago. The present building is the third location in Fond du Lac. The theme for the Salvation Army this year is "Others". Some numbers of their support for the community, children's Christmas gifts – 2,500; coats given out – 1,157. "Back to School, they gave 1,000 certificates for shoes. The Thrift Store gave away $3,000 vouchers from their store items. Regular sales help support the Salvation Army other programs. The Food Pantry serves about 800/1000 people per month for a total of 30,000 pounds of food per month. They gave away 900 turkeys and will give away about 700 Christmas meals. Two of their programs are Salvation Outdoors, Archery & Religion. "Pathway to Hope" works to help get families out of poverty on a permanent basis. This is a pilot program for the Salvation Army. For more details on the Salvation Army or to ring bells, www.salvationarmywi.org/wum/fdl.