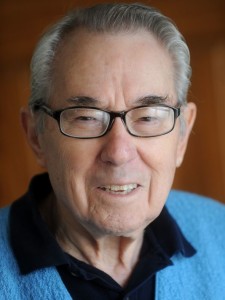 Monday Morning
There were 17 members at our Monday meeting plus five guests. In addition to our guest speaker, Thomas Ramirez, we had an interclub from the Noon Club.  They were Don Kurki, Ray Farr, Dick Talley and Joan Pinch. Happy buck came from Charlene for a great trip to Washington D.C. Remember – Marlin needs your ticket sales money as soon as possible. Pastor Dan supplied both invocation for Jan and also the humor of the day. Chris Serres was the ticket winner. Unfortunately, she drew the two of hearts, no winner. Next Monday's 50/50 Raffle will have 46 cards in the game including the eight pay cards with a pot of $70. We had an interclub to Key Club today. Joining our interclub chairperson Dawn were Gary Miller, Gary Ring, Donna Freund, Jackie, Harry and John. We presented a check for #350 for their help at Pork dinner.
Thomas Ramirez – Local Veteran and Author
Tom was born on February 5, 1926 in Fond du Lac. His father was Latino and his mother was Caucasian. He started his writing itch in sixth grade. After returning from the service, Tom attended Oshkosh Teachers College. He taught in both Campbellsport and the Franklin School in Fond du Lac. He resigned in 1961 to write full time He authored over 150 novels. In 1971, he moved to Florida for sixteen years. He returned home to write articles for the National Enquirer. In between, he wrote another four novels.  He is now sharing his autobiography in a column for the Fond du lac Reporter. His column on his mother is called "Wisdom at the Ironing Board."  Ma was a stickler for routine. Monday was wash day. Tuesday was she would iron. She was only thirteen when she married Tom's dad. They grew up very poor and one of the first Latino families in Fond du Lac. To learn more, read Thomas' columns in the Reporter.