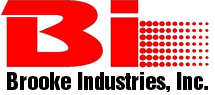 Monday Morning
We only had 7 members and Lt. Governor Joan Pinch at Monday's tour of Brooke Industries. Gary Miller did an awesome job brining donuts, assorted juices and coffee was provided by the folks at Brooke Industries.  There was no 50/50 Raffle drawing on Monday. Next week's drawing will have 32 cards with five pay cards and a pot of at least $249.
Sue Grich, Brooke Industries Inc.
Sue Grich, Counseling Services Coordinator, was our tour guide at Monday's meeting at the Brooke Industries, Inc. operation.
Brooke Industries Inc. has been creating innovative opportunities for individuals with disabilities since 1963.
Established with a steadfast mission and vision, Brooke Industries, Inc. has consistently provided rehabilitation through work, helping people develop useful skills for independent living, as well as assistance in obtaining and maintaining community-based jobs. They have also been a trusted partner in the business community, offering high quality, flexible services that are focused on exceeding the expectations of their customers.
Following a state-of the-art expansion in 2004, their organization operates within 63,000 square feet of production and warehouse space, including a 3,000 square foot cooler. The facility, designed with efficiency in mind, also increased their capabilities to provide individualized, comprehensive programming geared toward a population with varying needs and abilities.
Brooke Industries currently serves over 200 individuals with disabilities each year and distributes product internationally. Progressive in their approach to rehabilitation, Brooke Industries adapts to the changing needs of the population they serve. Subsequently, a broader scope of individuals has the opportunity to develop and transfer skills to other areas of their lives.
As an industry leader committed to developing a diverse and valued workforce, Brooke Industries, Inc. strives to exceed the expectation of quality and levels of service to the business and rehabilitation communities.