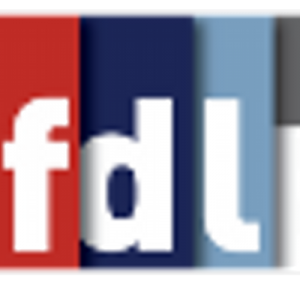 Monday Morning
We had 18 members at Monday's meeting along with our guest speaker, Sarah Newton from the Fond du Lac Public Library.  Bonnie Baerwald noted that four members; herself, Donna Freund, Brenda Schaefer and Jeff Stueber participated  in the leaf raking Make A Difference Day project on Saturday and Gary Miller volunteered at the Lutheran Home making Linus blankets.  Thanks to all those member who participated.  Gary Miller noted a successful InterClub to the Fond du Lac High School Key Club on Friday, October 24th and also to the Noon Kiwanis Club Pancake Day on Thursday, October 23rd.  Happy Bucks were offered by Bonnie Baerwald for the group that helped out at the Make A Difference Day on Saturday and also by Sharon Kollman for the birth of her grandniece on the same date has her niece, our newest member, Dawn Scannell.  Sharon had a picture of her new grandniece with a Kiwanis swaddle that she circulated.  John Cooper was the 50/50 Raffle winner and he drew the Ace of Diamonds, not a winner.  Next week's drawing will have four cards with one pay card and a pot of at least $688.  Good luck everyone.
Sarah Newton, Fond du Lac Public Library Story Walk
Sarah Newton, Youth Services Coordinator at the Fond du Lac Public Library, joined us on Monday to talk about the StoryWalk program at the Library.  A StoryWalk is an innovative yet simple way for adults and children to enjoy reading and the outdoors at the same time.  StoryWalks have been installed in 48 different states and four other countries.
StoryWalk partnerships happen naturally between libraries, schools, children's museums, city parks departments, service organizations, nature centers, and more.
In January of 2014 the National Education Association reported that 80% of low-income children in 4th grade do not read at grade level.  That means at least 2,800 students are not reading at grade level in the Fond du Lac school system.
The interactive relationship between a child and their caregivers is essential to the developing brain.  Studies have shown repeatedly that children who are read to from birth to 5 years old are better and stronger independent readers.
Academic success at ages 9 and 10 can be attributed to the amount of talk children hear from birth through age 3.  Children who are not reading on grade level by the end of first grade have only a one in eight chance of catching up without costly direct intervention.
StoryWalks are created by disassembling a storybook and installing it, page by page, on stakes throughout a trail, park, or other area. StoryWalks often have guides, hints, and tips posted throughout the walk to encourage interactions and positive experiences.  The Library is hoping to have their StoryWalk be a permanent, weatherproof structure.  Parks Superintendent John Kiefer has estimated that each individual StoryWalk post will cost $50.00 to build, for a total of 40 posts for $2000. This includes the heavy-duty post and the plexi-glass, hinged top to hold each page.
This will be custom-built by the Parks Department to best fit the designated space and needs.  The Library will begin this process in Lakeside Park.  They will feature service group's names of the various donors on the welcome sign, and each individual post throughout the walk.  Donors will be thanked in promotional materials, on their website, and in person.  They hope to continue fundraising and install StoryWalks throughout all of our parks, for all of the children in our community.